We're Here, We're Mexican, and We're Not Going to Take Whatever it is We're Taking Anymore!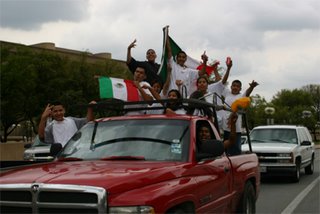 Big news in Dallas today
, as hundreds of Mexican schoolchildren stormed Dallas City Hall for the second straight day, ostensibly protesting the Immigration Bill the U.S. House just passed. Before we start, let's crunch some numbers:
10
-- est. percent of Mexican schoolchildren who knew why they were protesting yesterday, i.e., the recently passed House Bill. And I don't mean just "because of immigration" or "because they're going to criminalize Mexicans." Look, we'd all like to think that these children are actively participating in the political process, but we know how these things work. The vast majority of these students were just looking for a way to get out of going to school.
0
-- est. percent chance that the House Bill in question becomes law. The Senate won't pass it, and Bush is even against it. Yet many of the children yesterday were protesting against President Bush. Go figure.
0
-- numerical value equal to the effect these protests will have on legislation in Washington, or even Dallas. Next time, they should probably carry American flags instead of Mexican ones. To the untrained eye, it just looked like the Mexican soccer team beat us again.
People one generation older than me totally romanticize the days of their youth, and so they view protest marches as pretty much the highest form of political discourse. They are the ones (particularly the
ones
who still hold to their leftist protest ideology) who are out there today calling this "amazing," "inspiring," and "significant." They say that "The big Mexican voting bloq is finally waking up and making their collective voice heard." On the other side are school officials and just about everyone else, and they're saying things like, "We're hoping for a good day of school now that the students had their little adventure." Most observers aren't taking this seriously at all.
Then there's the safety issue -- both the students and the general public are put at risk when unlicensed drivers parade down the street with 6 people on the roof of their Sonata. It's kinda amazing that the only casualty in Dallas yesterday was
some girl's hand
.
I don't mean to belittle the underlying issue here -- many of these kids have parents for whom the illegal immigration issue is very important indeed -- but I have some suggestions for these students, if they really want their quaint little protest marches to make a difference:
Know what your message is, and make signs and perform chants that get your message across. "Viva Le Mexico" doesn't cut it, and neither does the flag of the country you want the right to escape from.

Speaking of that, carry American flags instead of Mexican ones if you want to affect public policy in the U.S. (Note: Some of the more thoughtful protesters actually did this yesterday, and ended up getting shouted at by their peers. Once again, the majority is always wrong.)
You're at a protest march, not a rock concert -- don't cavort in a fountain or have any other kind of fun. If you want to be heard, you need to be all business.
Have the protest march on a day you're not in school, so that people don't think you're just looking for a way to be legally truant.
Protest when something actually happens, rather than after the House passes a Bill that has no chance to become law. You just look silly.
Immigration is a serious and hotly-debated issue with a bunch of nuances that are liable to get lost in the cracks of American politics if we're not careful. Large-scale, uniformed, and unsafe protests like this are exactly what we
don't
need. Mass stupidity may be able to affect change in Mexico, but that's precisely why your parents left that country. Think about that.